CEO Message
Currently, various scenes are unfolding to make 2020 a significant milestone. In 2020, the Olympic Games will be held in Tokyo - for Japan and the people who live in this country this will be an epic event.
The ambitions of 2020 will be no exception to our company as well as we formulate a medium-term management plan to propel our company towards the future.
Not much time has passed since we conducted our MBO (from Yuasa Trading), but our experience in the food industry dates back to our founding era, more than a century ago.
The implementation and objective of VOX - its history and utilization of "Safe & Reliable", "Premium Quality", and "Optimal" ingredients that have been developed primarily for the Japanese market using accumulated knowledge and supply-ability ("Food Engineering"), is to deliver these ingredients made to "Japanese Standards" to a more global market. Utilizing our business & food technology, we wish to contribute our products to the world.
"VOX" is Latin for "Voice".
Our company name reflects the independent spirit in "listening to the voices of our shareholders, business partners, employees and other stake holders, and the development, implementation, and success of our efforts.
All of our employees embrace this passion and actively works to promote our company slogan -"Yaruzo (Let's Get It Done!) VOX".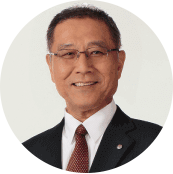 VOX TRADING Co.,Ltd.
Haruki Kawabe
PRESIDENT C.E.O
Corporate Philosophy and Values

Creating the future of food on a global level, we strive to be a "Food Engineering" company that manages the full production process from crop cultivation to sales - providing a new level of value and satisfaction to society.

1. Listen to customer feedback, view things from our customer's perspectives, and place paramount importance on food safety.
2. Obey all laws and rules, and consider the local and global environment when conducting business activities.
3. Take care of our colleagues, and aim to grow both as individuals and as a company.
4. Ensure reliable, fair and transparent business management.